This year I am doing a stripped down version of Poetically Speaking. I didn't want to drop the feature entirely but I've been too bogged down with work and illness to plan the large scale round up of guest posts and interviews that I have had in previous years. Instead, this year I'll be sharing a Poetically Speaking post every Friday.
Do I dare

Disturb the universe?

In a minute there is time

For decisions and revisions which a minute will reverse.

For I have known them all already, known them all:

Have known the evenings, mornings, afternoons,

I have measured out my life with coffee spoons;

I know the voices dying with a dying fall

Beneath the music from a farther room.

               So how should I presume?
I spend so much time thinking about T. S. Eliot's poem The Love Song of J. Alfred Prufrock that I was shocked to realize I haven't featured it before for Poetically Speaking. This poem is sprawling and meandering filled with lines that you have probably heard before both in connection to this poem and not.
Truthfully, this isn't a poem that I know by heart. There are even pieces that I don't care about as much as others. Still, I could have quoted a few pieces here (the entire poem is a bit too long to share but click the link in the paragraph above to read it all or listen to the audio version) including the last sentence "We have lingered in the chambers of the sea / By sea-girls wreathed with seaweed red and brown / Till human voices wake us, and we drown." or "In the room the women come and go / Talking of Michelangelo." Instead, I chose the one that I find myself returning to again and again.
The partial stanzas above might be some of the best-known parts of Eliot's seminal poem. They are also some of the most universal. Haven't we all asked ourselves if we dare take that next big step? Haven't we all vacillated and questioned and pondered only to abruptly change our minds again?
Contrasted with that desire to do something or be something grand–to go so far as disturbing the universe–is the mundane reality that sometimes life is measured in smaller scale and quieter things be it coffee spoons or afternoons.
Poetry is inherently subjective and, particularly in this case, I think the reasons for loving (or perhaps not loving) this poem are also personal. For me? I appreciate the reminder that it's okay to dream big while also being more grounded in the day-to-day. I love the language and cadence of this poem and the way in flows trippingly off the tongue when read aloud.
And, of course, I want to remind myself that I do dare to disturb the universe even if it isn't always in big ways.
Which is why I have this print hanging above my desk at home: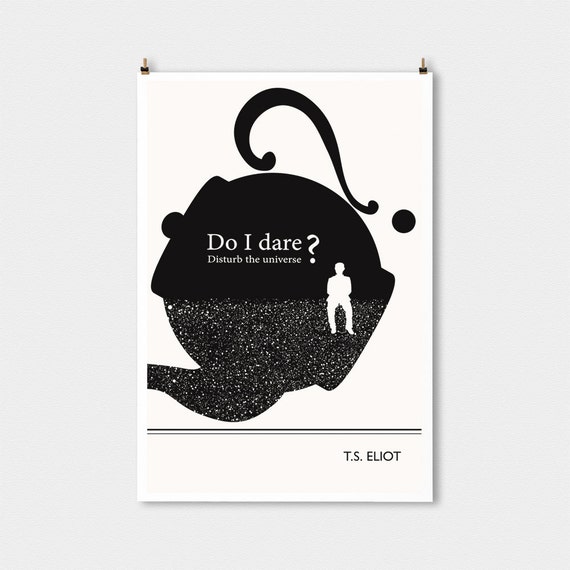 What do you think of this poem? Do you dare disturb the universe? Have you read The Shadow Society where this poem plays a big part? Let me know in the comments.